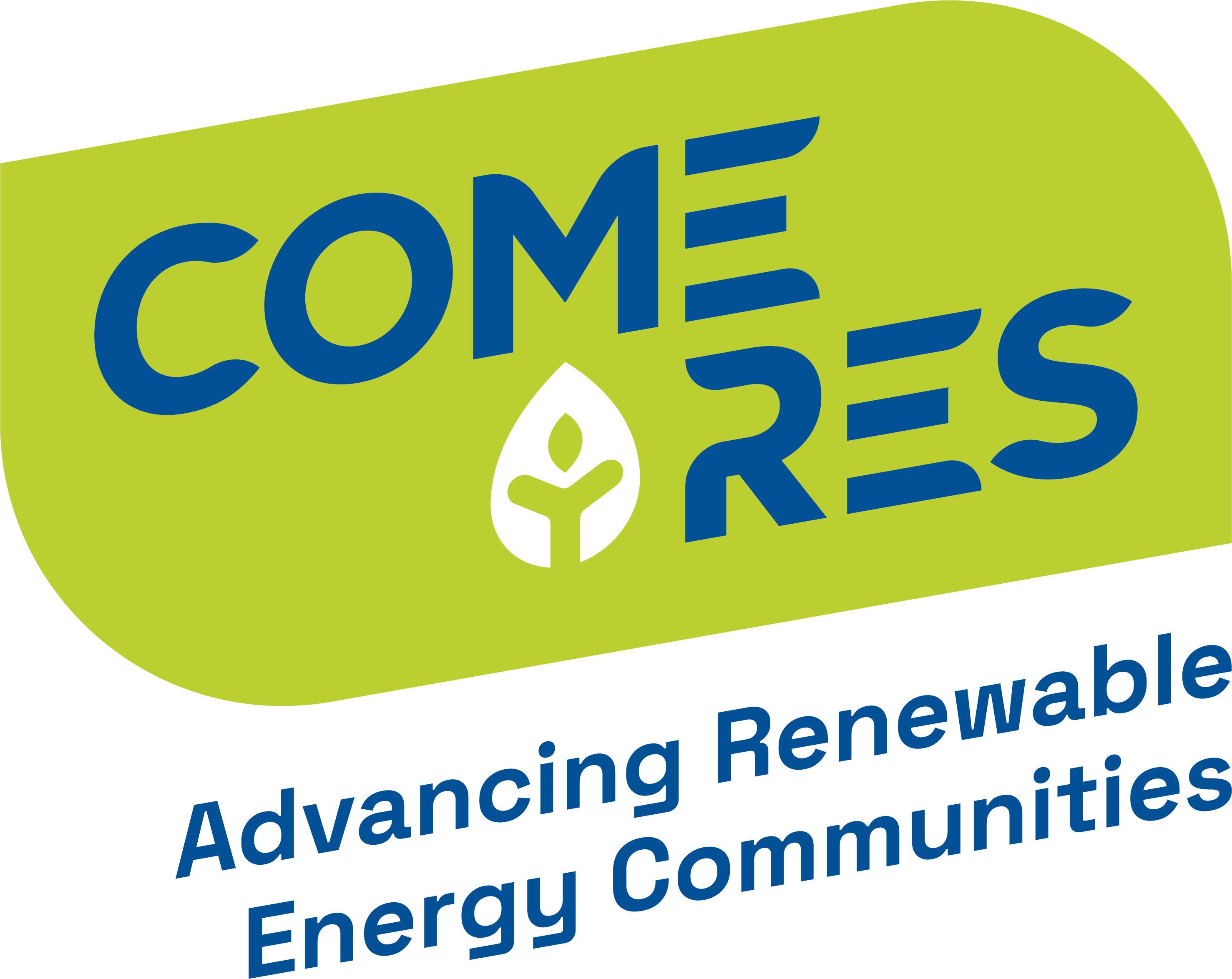 The German Stakeholder Desk
The German desk concentrates on community wind energy and community integrated solutions. It involves a core group of approx. 40 stakeholders and a wider group of roughly 120 stakeholders. For operational reasons, regular desk meetings are mainly addressing the core group whereas the Thematic Workshops and Policy Roundtables are open to a larger group of stakeholders. The stakeholders come mainly from target region Thuringia and model region Schleswig-Holstein, but also from other German federal states (e.g. North Rhine-Westphalia) and organisations at the national level.
The term Renewable Energy Community has not yet been officially defined in German law. However, there are community-based organisations and initiatives which certainly fulfil the corresponding criteria (see Renewable Energy Directive II), including many cooperatives. By the end of 2019, the number of energy cooperatives in Germany reached 883, involving 200,000 members and investments in RES installations of 2.9 billion EURs. Roughly one quarter of all energy cooperatives are engaged with the generation of electricity from wind energy, while most (83%) deal with electricity production from PV. Between 2008 and 2013, the total number of energy cooperatives saw an increase from 24 to 718. Since 2011 however, the annual increase has constantly declined. In 2019, only 14 new energy cooperatives were founded (DGRV 2020).
The desk is designed as an informal forum to discuss current topics related to the development of RECs. It seeks to accompany and inform the transposition and implementation of the recast Renewable Energy and the Integrated Electricity Market Directives and their provisions for energy communities. For this purpose, the desk organises Thematic Workshops and policy roundtables involving public decision-makers. It provides input for the analysis of potentials, barriers, good practices, business models and transfer opportunities. The stakeholders involved also provide feedback on project results (e.g. on the action plan for the target region Thuringia) and help to test and validate project outputs and support their dissemination.
2. Thematischer Workshop des Ländertisches in Deutschland - Dokumentation
This report (in German) covers the second country desk meeting in Germany, held on 31 March 2022.
Publication Date: 03 May 2022
Author: Michael Krug, Vincenzo Gatta, Helena Michalke, M. Rosaria Di Nucci
Factsheet 1: The Potential of Community Projects in the Renewable Energy Sector
Dutch English German Italian Latvian Norwegian Polish Portuguese Spanish
This factsheet provides a concise overview of...
Publication Date: 26 Oct 2021
Author: Arthur Hinsch & Lucy Russell (ICLEI), Erik Laes & Kellan Anfinson (TU/e) - with contributions from all project partners
Dokumentation: Statustreffen des Ländertisches in Deutschland
Ziel des Statustreffens am 30. September war, erste Zwischenergebnisse des COME-Projektes zu präsentieren. Darüber hinaus sollten Good...
Publication Date: 30 Sep 2021
Author: Michael Krug, Vincenzo Gatta, M. Rosaria Di Nucci (FFU-FUB)
Summary: Status meeting of the German country desk
On September 30, 2021, a so-called status meeting was organised online by the FFU in cooperation with the Wind Energy Service Unit of the...
Publication Date: 30 Sep 2021
Author: Michael Krug, Vincenzo Gatta, M. Rosaria Di Nucci (FFU-FUB)
Energiewirtschaftliche Tagesfragen: Zukunft der Bürgerwindkraft
Warum ist ein Regulierungsrahmen für Erneuerbare-Energie- Gemeinschaften notwendig?
Lokale Akzeptanz ist eine wesentliche politische...
Publication Date: 01 Jun 2021
Author: Di Nucci, Maria Rosaria; Krug, Michael; Gatta, Vincenzo and Michalke, Helena
Summary: Thematic Workshop and Policy Roundtable of the German Country Desk
On March 30, 2021, the first thematic workshop of the country desk in Germany took place, which was organised by FFU in cooperation with the...
Publication Date: 04 May 2021
Author: Michael Krug, Helena Michalke, Vincenzo Gatta, M. Rosaria Di Nucci
Policy Brief 1: Renewable Energy Communities - Are we nearly there?
English Dutch German Italian Latvian Norwegian Spanish Polish Portuguese
Community energy has come a long way in Europe and is...
Publication Date: 30 Apr 2021
Author: Arthur Hinsch, Carsten Rothballer, Julia Kittel (ICLEI) - based on work by the COME RES partners
Dokumentation: Erster Thematischer Workshop des deutschen Ländertisches
Ziel des Workshops am 30. März 2021 war, einen Stakeholder-Dialog zur Umsetzung der Richtlinie in Deutschland zu organisieren, insbesondere in...
Publication Date: 14 Apr 2021
Author: Michael Krug, Vincenzo Gatta, M. Rosaria Di Nucci (FFU-FUB)
Dokumentation der Auftaktveranstaltung des Deutschen Ländertisches
Publication Date: 06 Jan 2020
Author: Maria Rosaria Di Nucci, Michael Krug, Vincenzo Gatta
Summary of the German Stakeholder Desk Kick Off Meeting
Publication Date: 12 Feb 2021
Author: Maria Rosaria Di Nucci, Michael Krug, Vincenzo Gatta