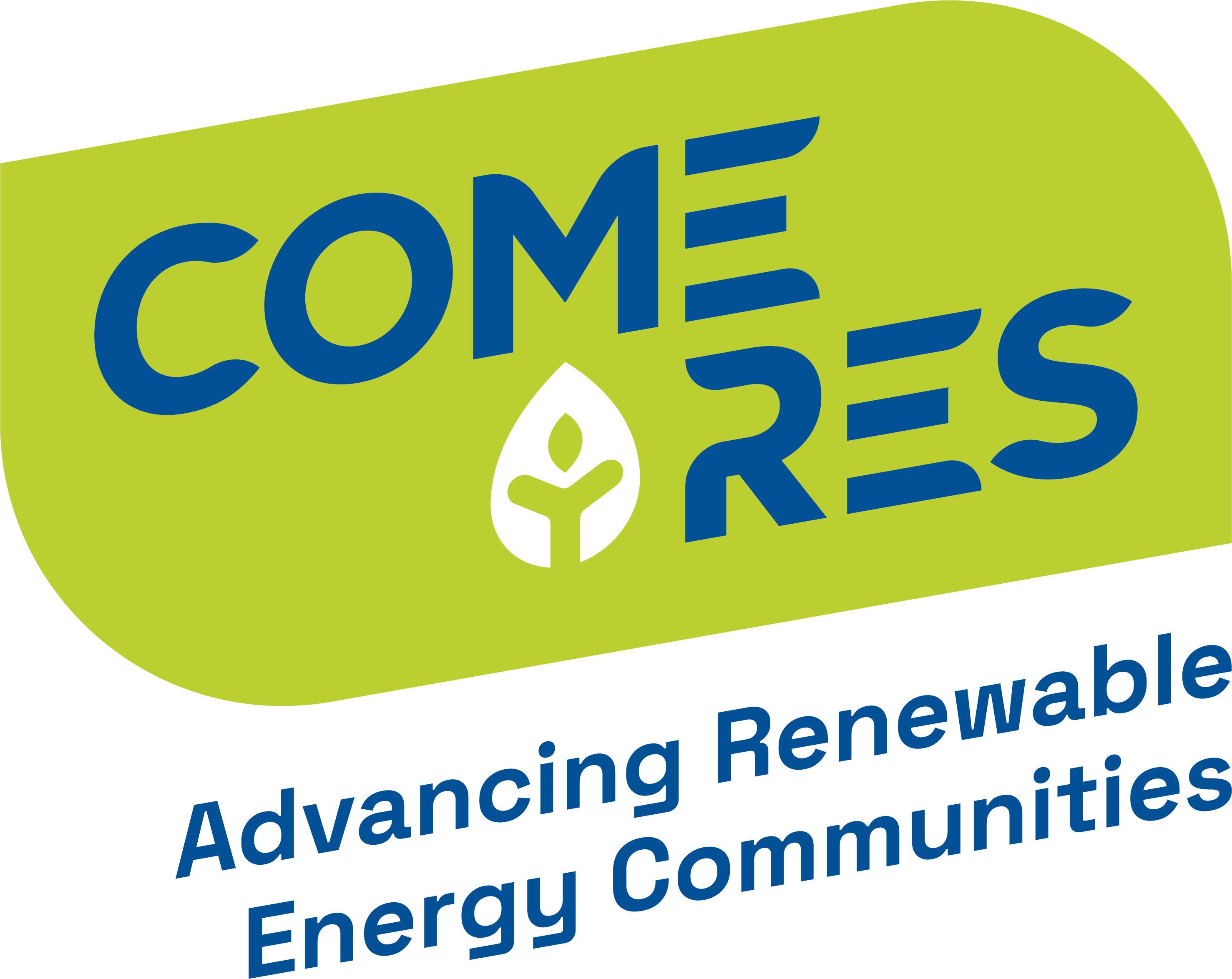 Em Portugal, as atividades do projeto focam-se na Região Norte enquanto região-alvo. No entanto, sendo o enquadramento regulamentar e jurídico das CERs essencialmente desenvolvido a nível nacional, diferentes intervenientes e atores nacionais, e de outras regiões, estão também envolvidos no projeto. Em termos tecnológicos, o foco é nas soluções de energia comunitária com sistemas fotovoltaicos e soluções integradas (fotovoltaico com armazenamento), uma vez que as CERs são na sua maioria vistas como potenciais contribuintes para a penetração de solar fotovoltaico.

O principal objetivo do grupo nacional de discussão é promover um diálogo informal entre os diversos atores envolvidos na promoção de iniciativas comunitárias de energia. O grupo é composto por 35 entidades, cobrindo um vasto espectro de intervenientes a nível local, regional e nacional. Entre os membros do grupo, destacam-se institutos de investigação, entidades públicas e decisores políticos, iniciativas e cooperativas comunitárias de energia, operadores de sistemas de energia, agências de energia e inovação e serviços públicos.
Sobre o COME RES
COME RES é um projeto financiado pelo programa Horizonte 2020 que visa facilitar a adoção de fontes de energia renovável no sector elétrico. Foca-se no apoio ao desenvolvimento e implementação de enquadramentos favoráveis às comunidades de energias renováveis (CERs). Isto é conseguido através da transferência de conhecimento e partilha da experiência de regiões onde o conceito de energia comunitária está mais desenvolvido para regiões com um potencial elevado de desenvolvimento de comunidades de energia renovável.
COME RES abrange diferentes soluções socio-tecnológicas incluindo sistemas fotovoltaicos, eólicos, hídricos e de armazenamento comunitários assim como soluções híbridas e integradas.
Parceiro Português no projeto
INEGI é um Centro de Interface Tecnológico, vocacionado para a realização de atividades de investigação e inovação de base tecnológica, transferência de tecnologia, consultoria e serviços tecnológicos, orientadas para o desenvolvimento da indústria e da economia em geral. Os seus principais sectores de atividade incluem: indústria; bens de equipamento; aeronáutica, espaço e defesa; automóvel e transportes; infraestruturas; energias renováveis; economia marítima; e saúde e desporto. A missão do INEGI é contribuir para o desenvolvimento da indústria e da economia em geral, através da inovação de base científica e tecnológica, garantindo ao mesmo tempo o desenvolvimento pessoal e profissional dos trabalhadores e o enriquecimento do ensino superior.
Factsheet 1: The Potential of Community Projects in the Renewable Energy Sector
Dutch English German Italian Latvian Norwegian Polish Portuguese Spanish
This factsheet provides a concise overview of...
Publication Date: 26 Oct 2021
Author: Arthur Hinsch & Lucy Russell (ICLEI), Erik Laes & Kellan Anfinson (TU/e) - with contributions from all project partners
Comunidades de energia renovável e o enquadramento regulatório em Portugal
As Comunidades de Energia Renovável (CER) são consideradas como tendo um papel importante na transição energética, contribuindo para a...
Publication Date: 01 Sep 2021
Author: Isabel Azevedo (INEGI - Instituto de Ciência e Inovação em Engenharia Mecânica e Engenharia e Gestão Industrial)
Policy Brief 1: Renewable Energy Communities - Are we nearly there?
English Dutch German Italian Latvian Norwegian Spanish Polish Portuguese
Community energy has come a long way in Europe and is...
Publication Date: 30 Apr 2021
Author: Arthur Hinsch, Carsten Rothballer, Julia Kittel (ICLEI) - based on work by the COME RES partners
Objetivos do projeto e Grupo de Discussão Nacional
Publication Date: 18 Feb 2021
Portuguese Stakeholder Desk Kick Off Meeting Presentations
Publication Date: 10 Feb 2021