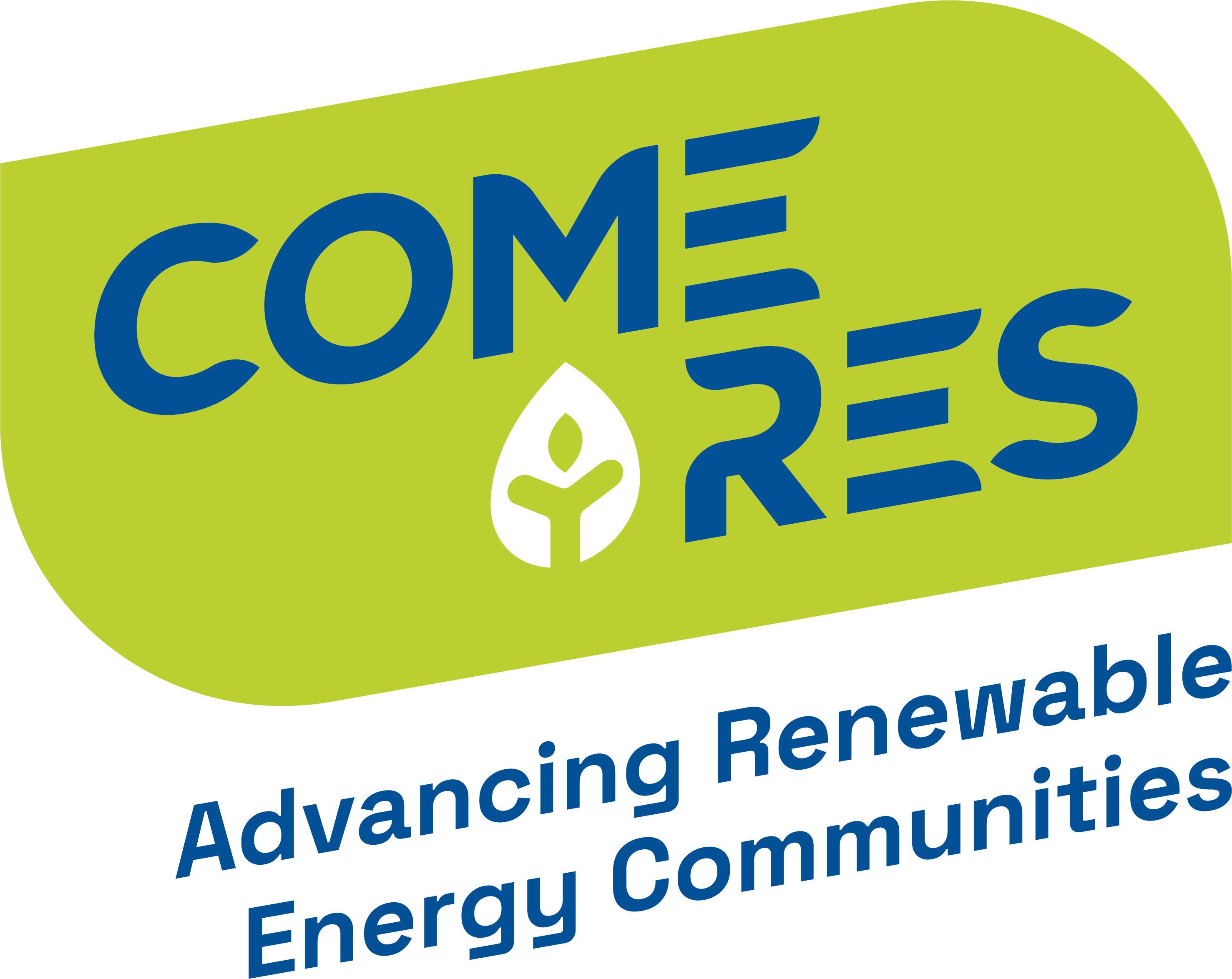 The Norwegian Stakeholder Desk
The Norwegian COME RES country desk consists of 29 organisations and companies from diverse sectors and industries, who all share an interest in developing renewable energy. They are from sectors such as the energy industry – mainly power companies, developers and industry associations – citizens and interest organisations, property developers and the food industry. The desk also consists of members from the public sector, such as municipalities and regional authorities.
Several participants such as power utilities and industry have long experience in producing renewable energy, or in developing renewable energy technology and systems. The country desk members from other industries are mainly participating to actively take part in the energy transition and are considering investing in renewable energy production both to lower their electricity costs, and to reduce their carbon footprint. Representatives of citizens and environmental organisations are interested in renewable energy to reduce emissions and build environmentally friendly communities. The diversity of the desk participants ensures that a broad set of perspectives and experiences are included and enables engaging conversations.
Norway has a long tradition of local power production where farmers or landowners have helped transform water resources into electricity. However, there are not many examples of local energy communities in which citizens of the local community participate as members or shareholders. For that reason, the Norwegian country desk does not focus on one specific region or technology but is instead taking a more open and explorative approach and will study different renewable energy and storage technologies and look at Norway as a whole.
The Norwegian COME RES country desk is led by CICERO Center for International Climate Research and the Norwegian Water Resources and Energy Directorate (NVE).
Norwegian country desk meeting summary
The Norwegian stakeholder desk meeting was held on 26 January 2022. It was arranged by CICERO in collaboration with NVE, which is a partner in...
Publication Date: 26 Jan 2022
Author: Hege Fantoft Andreassen, Karina Standal, Stine Aakre (CICERO)
Factsheet 1: The Potential of Community Projects in the Renewable Energy Sector
Dutch English German Italian Latvian Norwegian Polish Portuguese Spanish
This factsheet provides a concise overview of...
Publication Date: 26 Oct 2021
Author: Arthur Hinsch & Lucy Russell (ICLEI), Erik Laes & Kellan Anfinson (TU/e) - with contributions from all project partners
The conditions for community energy to promote the energy transition
Renewable energy communities (RECs) can drive the uptake of renewables and social acceptance of the low-carbon energy transition in Europe. But...
Publication Date: 19 Nov 2021
Author: Karina Standal & Stine Aakre (CICERO) and Erik Laes (TU/e & VITO)
Report summary: Norwegian thematic workshop and policy roundtable
This report is a summary of the workshop 'Renewable community energy in Norway: Opportunities and challenges', which was held on 2nd of June...
Publication Date: 25 Aug 2021
Author: Hege Fantoft Andreassen, Karina Standal, Stine Aakre (CICERO), Ingrid Ueland, Kjell Rune Verlo (NVE)
Policy Brief 1: Renewable Energy Communities - Are we nearly there?
English Dutch German Italian Latvian Norwegian Spanish Polish Portuguese
Community energy has come a long way in Europe and is...
Publication Date: 30 Apr 2021
Author: Arthur Hinsch, Carsten Rothballer, Julia Kittel (ICLEI) - based on work by the COME RES partners
Norwegian Stakeholder Desk Kick Off Meeting Agenda
Publication Date: 12 Jan 2021